on Tue Apr 03, 2018 5:05 am
RP Link:
https://www.tapatalk.com/groups/ewewrestling/roller-brawl-vs-annie-midnight-fugate-t1833.html#p22150771
Show: Summer BreakDown 2015 [9/13/2015]
-Scene 1-
Sirens echo through the streets. A single ambulance rushes through heading to the hospital of the great city of New York. Inside the occupants were worried over the fate of the injured individual. Soon the ambulance arrived at the hospital, having radioed ahead the technicians were awaited by the hospital staff upon entering the building.
-Hospital Staff-
"What do we have here?"
-Ambulance Technician-
"Little girl, age 8. Her head's busted open badly. We've stopped the bleeding as much as we could."
The Hospital staff nods as they in turn prepare to shift the patient to the hospital bed as the little girl's father came inside. His fears and worry sprayed onto his face. After the transfer the staff rushed the girl to the surgery room while the father was forced to wait outside. The surgery started immediately as the wound in the head was treated as soon as possible. Things were getting serious as try as they may to save the young girl.
-Surgeon #1-
"Her vitals our dropping fast."
-Surgeon #2-
"We're losing her."
They tried what they may for this girl. Doing every bit they could. All the while the little girl's spirit watched this from afar. The girl was silent as she watched, not knowing what was going on as she saw her body lying there. Was she dead? No she couldn't be. The doctors would have said she was by now right? Unless this was all a dream.
-???-
"This isn't a dream."
The girl turned to her left as she saw a man standing there. This guy was on the short side and a little pudgy. He had short dark brown hair with a scruff of a beard to match. The girl looked at this figure surprised that he could see her. Or was it odd that the others couldn't see her.
-8 Year Old Girl-
"Are you... Dead?"
The guy chuckled slightly as he shook his head. He did have an air of dignity about him.
-Man-
"I wouldn't say that luv. But seems you're on the verge of it."
The girl was confused at that but no sooner had she was about to address that when an elongated beep sounded.
-Surgeon #1-
"She's flat lining."
-Surgeon #2-
"Quickly doctor!"
The girl watched as the doctor continued on trying to save her.
-Man-
"As I suspected, Luv. Doesn't seem you have much time left."
The girl watched on before suddenly the door burst open as another little girl, about 2 years younger, ran into the room. She was crying and pleading.
-8 Year Old Girl-
"Stealthy?"
The younger Maya cried as the doctors, not trying to save her sister's life, began to remove her.
-Surgeon #1-
"Get that girl out of here."
-Young Maya Jensen-
"NOOO!! Britney! You Can't Die! Britney!!!"
Britney watched as her little sister was removed from the room. Tears in her own eyes.
-Young Britney Jensen-
"I... I can't leave her. She needs me."
-Man-
"May not be your decision there."
The doctors continued to try and save the young Britney but in the end the doctor shook his head.
-Doctor-
"I'm calling it."
-Young Britney Jensen-
"What? NO! I can't die! I've got so many plans! And Stealthy! I can't leave my sister. She needs me. I just can't...!"
Britney began to cry as she ran over to her unconscious body and just started to hit it. Her flailing wasn't doing anything due to her spirit not fully being there but Britney's 8 year old mind didn't care.
-Young Britney Jensen-
"Wake UP! Wake UP! Come on!"
Britney finally just stopped as she began to cry. She wouldn't be able to see her sister again, not play with her, and keep the mean kids from pestering her. Nothing! After a moment of this the door opened as her parents and little sister entered the room. They were crying as they had heard of the young girl's fate.
-Young Maya Jensen-
"Mommy...Britney can't... She can't die."
Her mom held Maya close and hugged her. The father joined in. Britney saw them and yelled out in frustration.
-Young Britney Jensen-
"Why?! I want to go back... I... I..."
Britney began to cry uncontrollably. She didn't want to go. Her mind flashed to all the things she's done. All the times she's spent with her sister. And all this because of a stupid trick gone wrong? It wasn't fair. Suddenly, a hand was placed on her shoulder. She looked up to see the man standing next to her.
-Man-
"There, there, luv."
Britney just cried more.
-Young Britney Jensen-
"Are... Are you here to take me on?"
-Man-
"No I'm not. I'm here to offer you a deal."
The girl stopped as she looked at him.
-Young Britney Jensen-
"A deal?"
The man nodded as he smiled though Britney couldn't tell if it was a warm smile or something else.
-Man-
"Yes a deal. I can give you 10 years. "
-Young Britney Jensen-
"10? But..."
The man shook his head.
-Man-
"No buts Luv. It's a good deal. You get 10 more years with your sister and can help make sure she's able to stand on her two feet."
Britney thought about it. It did sound like a good deal. Then again what did it matter to her? Her thinking process wanted to get back to her family. She didn't care how. So without even thinking of what this guy wanted in return she looked at him and held out her hand.
-Young Britney Jensen-
"Deal."
The man smiled.
-Man-
"Good, because any longer it may of been too late."
He had glanced at Britney's body as it was already starting to get pale. But he extended his hand and shook the 8 year old's hand. Suddenly, the girl blacked out and returned to her body as the heart monitor began to start up again.
-Scene 2-
We open up to the entrance to a dark alley. Here the camera is recording as it could have been the exact same Alley that Midnight disappeared in too.
-Roller Brawl-
"Tell me something, Midnight. Does it look like I'm afraid of the dark?"
The voice comes from inside the alley way as we can hear a slight chuckle.
-Roller Brawl-
"See what you failed to realize, oh mistress of the night, is that I'm already here."
The camera sees a gloved hand come out of the darkened area as it beckoned the cameraman to come. The cameraman obliged as the view moved into the dark area. After a moment of nothing but darkness a tad bit of lighting was seen giving an eerie glow casted on the alleyway. The camera didn't see Roller Brawl at first, until she stepped out of a darker area and into the view of the camera. However, her attire was not different than that of her usual Roller Derby Vampire like outfit instead she was wearing this: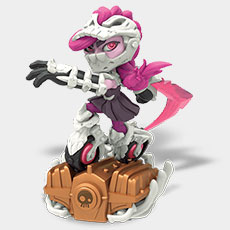 The smile could be seen in Roller Brawl's eyes as she skated on her single wheeled skates closer to the camera.
-Roller Brawl-
"You like it? My father let me come up with the new design for the game. Which he had the design made for me. Think of it as an early birthday Present."
Roller Brawl grinned as she looked closer to the camera.
-Roller Brawl-
"But that's not why you're here is it? No you're here to find out my own thoughts of this year's Summer Breakdown. The first time I've been able to participate. Everyone knows, well maybe not everyone, but Summer Breakdown is the second biggest night of the year for EWE. So I'd be a fool to miss it."
Roller Brawl winked to the camera.
-Roller Brawl-
"But the question was what could I possibly get involved in? After all, just about every single title that's up for grabs already had their contender's since pretty much Royal Flush. The top two titles of Men and Women's have their opponents due to their respective tournament winners, All American has their rematch clause, and I for the life of me don't understand how the four facing to see who gets the returning International championship got that match. Let's face it, Blitz is a loser, Cesaro has only won like 1 match since signing up, Benjamin Ryan's having his 2nd match back. And well, not much to say about Dolph at this point but still with those four why wasn't I entered into it?"
Roller Brawl Shrugged.
-Roller Brawl-
"Awe well. But then there's the TeleVixen, after all Rogue's still got her hands on it and the only reason I can think of why they'd not give me a shot at it, aside from my mother, is simply they wanted the opponent to be on the opposite brand to finally give that title a home but who knows."
Again Roller Brawl shrugged.
-Roller Brawl-
"There is the Open Invite for Ladies' Choice but I am officially telling everyone right now, that I won't be entering that. Why? Well it's simple, my sister, is entering and I believe she deserves to win that. Finally give her that Championship match for well, which ever title lands on her brand. Which oddly enough ties in oh so well with what we're doing here tonight."
Roller Brawl smirks as she continues.
-Roller Brawl-
"See, with no title matches for me this Pay-per-view it really just left me with one alternative, and that was to face some random person. Well, I wouldn't exactly call it random. See, my opponent tonight is actually not the first time we've squared up. And I've gotten the best of her each time. But truth be told, I never took any of those encounters to heart. Annie "Midnight" Fugate was simply an obstacle for me to get past and I did. Granted both times I ended up losing the entire thing but that's not important right now."
Roller Brawl shrugs it off as her tone starts to change.
-Roller Brawl-
"But you know, seems that Midnight decided to hold those has a personal grudge against me. She even dares to call it luck. What does she know about luck anyways? Nothing that's what. It wasn't luck or cheap tactics when I tossed her over that rope in the EWE Rumble match. No I was more aware of my surroundings and in a match like that, everything's fair game. But if that wasn't enough for you, I beat you fair and square in a one on one match at Royal Flush. So why don't you shut your yap about it just being a fluke. It was skill, plain and simple."
Roller Brawl has a slight glare in her eyes.
-Roller Brawl-
"Yet perhaps you want me all worked up. Perhaps I'll make a mistake? Fat chance there, Midnight. Sure I may sound all wild up but I know how to focus my frustrations in the heat of the battle. But who cares about that even right? Though I have to admit its funny how during your little chat session with Rogue you claimed to admit your failings. Or does that only count when it's not recent, hmm? See, the fact is I will tell you right now that I lost to dear ol' Abby dearest at Royal Flush. She was better than me then and I will not call it a fluke. But guess that's just your ego talking. That or you'll just say whatever you have too in order to make yourself the 'better' person."
Roller Brawl rolled her eyes.
-Roller Brawl-
"Whatever, in all honesty the best you could come up with against me was that our encounters were flukes and that I've never truly known rock bottom. Well you know what? You're right. I can't say I've really rock bottom in my life. My father is the successful character designer for video game franchises. My Step-dad is a wealthy businessman and the owner of EWE, so yeah I can't say I've really known hardship. The only thing that comes close is this one time where I nearly died but hey, not like you care. And no I'm not trying to pull some sympathy card, nor have I ever. Yet, funny, how you think I thought I had hit rock bottom all because I mentioned how hungry I was for a title during the Queen of the Ring Tournament? Geeze, did you really just run out of things to say against me? Or was the 'OMG You're a Skylander' insult way to boring for you?"
Roller Brawl chuckled at that.
-Roller Brawl-
"I'm surprised you didn't mention that at all, considering your sister's liking of them. I still remember the time I ran into her backstage and she thought I was the actual character. I told her that I was and yeah, interesting conversation we had. Don't get me wrong though, I like Sunshine. Reminds me of my own sister sometimes. Yet, that's where we come full circle Midnight. Truth is, we both have things in common yet aren't the same."
Roller Brawl nods as she uses this moment to get a little closer to the camera.
-Roller Brawl-
"We both like darker things. And we both are older sisters. Though I've seen a few interactions you've had with your sister and who are you fooling? You want to get out from your sister's chains' as you seem to think them of but that's the difference between us. See I know one of these days my sister will no longer need me. Why, just look at her record here. She's got three titles compared to my none, granted she's been here longer, but that's not the point. She's growing up but I never have seen my sister as any kind of bondage to me. In fact I want to see her do better than me. Yeah that's something to say, and we have the occasional bickering about things but that's what siblings do after all. I love my sister and quite frankly I can't even tell rather you care about yours, at least I like to believe it's at least deep down inside you."
Roller Brawl nods her head to emphasis her point.
-Roller Brawl-
"So while you've got it in your head that this is about a revenge tactics for my 'lucky breaks', for me this is about making a point to you. To show you who's the better big sister. Because we have a responsibility towards our younger siblings. It's something I don't take lightly in the slightest. So no midnight, it's not about showing how big and tough you are for your brand, or some black cat crossing my path. It's not even about you being darker than me. So here comes your lesson Midnight, and know that your Fate is sealed."
Roller Brawl winks towards the camera as she did and skated off out of the shot. The camera pauses for a moment before fading to black.
-END Part 1-
(Only 1 RP each)
on Tue Apr 03, 2018 5:06 am

Permissions in this forum:
You
cannot
reply to topics in this forum